MOTHER NATURE FESTIVAL LIVE INCORPORATED
Mission: Stop Global Warming
And other societal, charitable and philanthropic activities.
To educate, inform and inspire ourselves and others to stop Global Warming.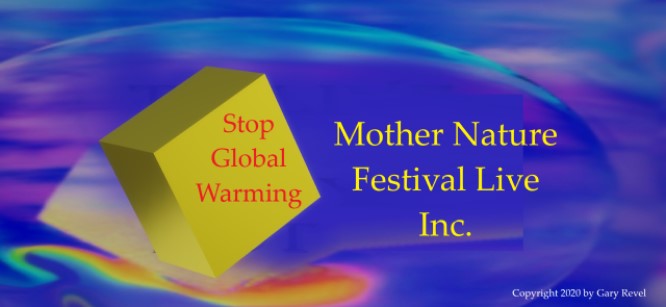 Information on our board members and more check out our Facebook Page https://www.facebook.com/mothernaturefestivallive
.
News Flash: We have set September 16 and 17, 2022 as the dates for festivals and conferences to launch. They will be based in Oswego, New York and network with other cities as we continue on our mission to STOP GLOBAL WARMING.
Sustainability is a key component of stopping Global Warming. One of the concerns we have is the runoff of nitrates, phosphorus, potassium, sediments, pathogens and pesticides that get into water systems, needed for human consumption. To learn more about the differences between the three kinds of agriculture products used for fetilizing Click Here for a presentation of details regarding same.

Experts and activists are being sought to speak and teach during our events. Major stars as well as bands such as The Great Robber Barons are in talks with us as to performing during these events. If you are a scientist, speaker, celebrity, activist, musician or concerned citizen, please contact us.




Bee Scared, by Richard Faith, is a book that will be given, as a gift, to those who donate $50.00 or more and/or provide services valued at $50.00 or more, and request the book at the time. Along with the book, will be a note from the author, recognizing the gift and the goodwill of the giver. The book gently reminds us of the problem of disappearing bees in this Global Warming and Climate Change environment. Richard is actively participating in radio, television and media interviews, and is available. Contact us, if you are interested, in reviewing the book or having Richard as a quest on your program.
If you want to buy the book now, click here-opens in new window.


Also:
Versa Libra One
Photography and Poetry of Matt Holden
Anyone giving at least $50.00 and requesting this book will receive an autographed copy from Matt.
Matt is giving all his proceeds from this book to forest management.
Click Here to Buy-Paperback or Ebook


Global Warming A to Z is a picture book by William Dandurand. It is another book that will be used to promote our theme of stopping Global Warming and raising funds. Buy the Book-Click Here


Mother Nature Festival Live Inc. was inspired by the song, Mother Nature, written in the early 1970s by Cecil Ray Fillingame Jr. and Gary Revel. The song was recorded by songwriter/recording artist, Gary Revel, and released as a single record in the mid 1970s. Today you can hear the track on most music platforms including iTunes and YouTube and listen free here.


The primary focus is to educate, inform and inspire others to join us in this vital cause and concern. To read the Mission Statement click the link below.
Mission Statement
Oswego, New York Chapter, Mission Statement
Research Notes

To join with us in this urgent and vital work of stopping Global Warming use the email form below. To participate in the Oswego Event or help plan other events contact our Executive Director, Richard Faith, email papafaith2001@yahoo.com - or use form above. Use the comment box to share your ideas, suggestions, questions, etc.
To take a quick survey, CLICK HERE.

Letter from Founder, Click Here.

48 Ways To Help Stop Global Warming-PDF

A Gary Revel Quote, "A little kindness goes a long way and always comes back to you."

Mother Nature Festitval Live Proclamation

Press Alert-January 8, 2020

Mother Nature Report 1

We at Mother Nature Festival Live Incorporated are primarily formed and operating to stop Global Warming. In so doing we have major plans for desalination plants, wind and solar energy projects, ocean cleanup opeartions, composting operations, river/lake/stream/beach cleanup operations, well drilling in places that have no or limited safe drinking water, and other related work.

MOTHER NATURE FESTIVAL and MOTHER NATURE FESTIVAL LIVE are trademarks of the 501(c)(3) Nonprofit Corporation, Mother Nature Festival Live Incorporated.

Founder: Gary Revel
Executive Director: Richard Faith
Secretary Treasurer: David Dunn
Board Members:
George Broadwell
Charles Burger
Jeff Olm
Richard Faith
Donna Francart
Gary Revel
Kevin Sturges
Patrick Wood

Founding Donors:
Gary Revel
Brian Warner - Warner Physical Therapy

Grant Writer: Mike Erwin
Fundraising: Patti McCune
Of Counsel: Alan Kennedy

Contact: Richard Faith
Phone: 315 529-8183
Email: papafaith2001@yahoo.com



Special note: The Mother Nature Festival Live scheduled launch was delayed due to the Coronavirus. September 16 and 17, 2022 has been set as launch dates for festivals and conferences to begin, stay tuned.


Why are we also at work addressing societal concerns? Social ills are actually societal problems that affect the social structure of society. These problems destroy the social networking or ordering of people in society.

They can be crimes and various forms of social deviance such as drug abuse, juvenile delinquency, prostitution, corruption, human trafficking,...etc. We believe that as we work to stop Global Warming we would be handicapped in that work if we did not recognize the societal needs of our planet. That is why we have the Human Rights Department of Mother Nature Festival Live Inc. Within that department we have the Border Action Division which is laser focused on the societal ills of planet Earth. If you would like to get involved, helping us with this department and/or division please use the contact form above. You can be specific as your communication will be held in confidence.


All grants, donations, gifts and services given are Tax Deductible.
Copyright 2019 - 2021 by Mother Nature Festival Live Inc.
A 501 (c) 3 Nonprofit Corporation
All Rights Reserved